Back to top
Click on the product you're interested in or want to buy. You have 2 options: direct purchase (only with incoterms: EXW and FCA) or you can start a negotiation (negotiate the price, receive a transport quote for the incoterms selected, etc). For the sake of this example we will focus on direct purchase.
Please fill up the form > click "Purchase".
Tip: If you have any questions about the product don't hesitate to ask. Tap on the chat button at the bottom-right corner of the screen and ask a question to the seller of the product.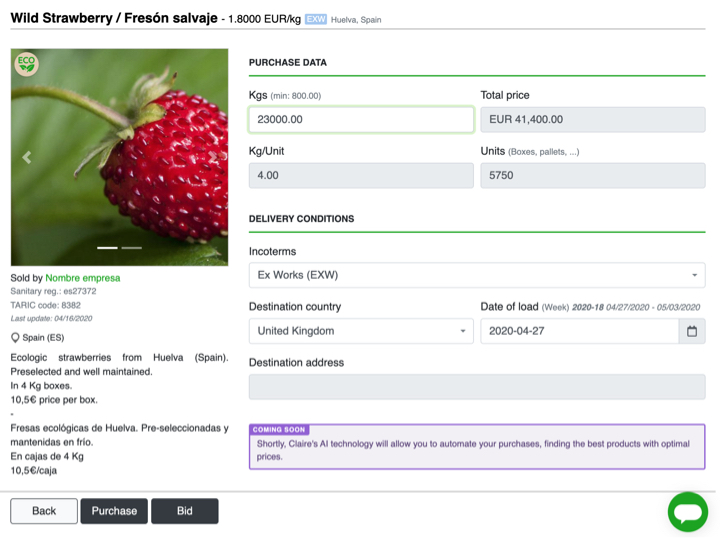 Once you confirm your interest in the product, this will take you to the order view. You have now a transaction with status "In progress". Also, an email has been sent to the seller of the product notifying them about your interest.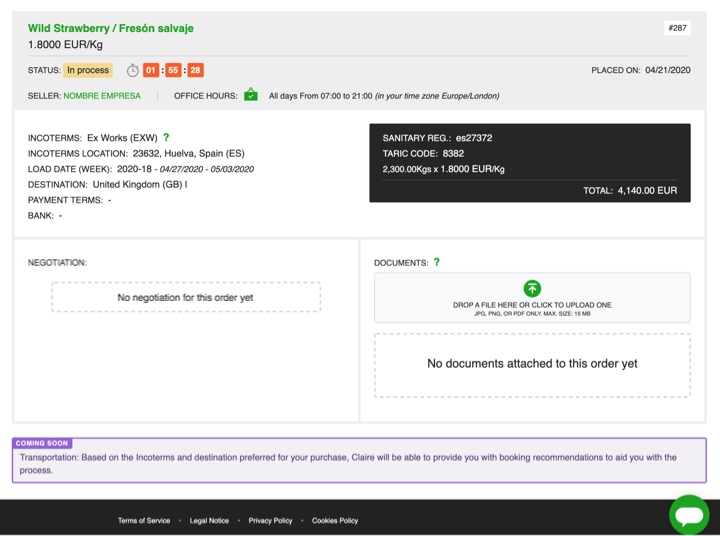 Here is an explanation of what you see in the order view:
Light grey box:

Product name, price and order number.
Status: status of the transaction.
Offer time: the time of the offer is limited to 24h, the seller of the product has the ability to extend this time if needed.
Seller: seller's company name with link to their public profile.
Office hours: active hours of this particular seller in your time zone, very useful in overseas transactions.

Next, information below in black and white boxes contains information about the order and product.
Negotiation's box: the negotiation you have with the seller will appear here. As this is a direct purchase (no conditions are changed), this will appear empty.
Document's box: here you can upload any file related to the order (packing list, certificates, more pictures, PDF with technical info, you name it).
Chat: you can talk to the seller by clicking on the chat icon at the bottom-right corner of the screen.
Tip: You can also find your order by clicking "Your Transactions" > "In progress" > the offer will be placed under "List of transactions (buyer)", tap on the transaction to access it.
You will be notified when the buyer responds to your order.
Once the seller has accepted the order, a "Sign" button will appear next to the generated pro-forma, click on it > tap "Confirm" if you want to proceed.

Once the proforma is signed, an agreement has been reached. The transaction is now in "Agreement" status.

You can check all your agreements by clicking on "Your transactions" > Agreement. You can continue uploading documents to an agreed order and chat with the seller if necessary.